How can your creative muse be given room to breathe?
The latest episode of Vickie Lan's superlative Speculative Sandbox podcast has dropped with me as the guest-star! It's a brisk 15-minute episode that you can slot into your day, and I hope you'll consider giving it a listen.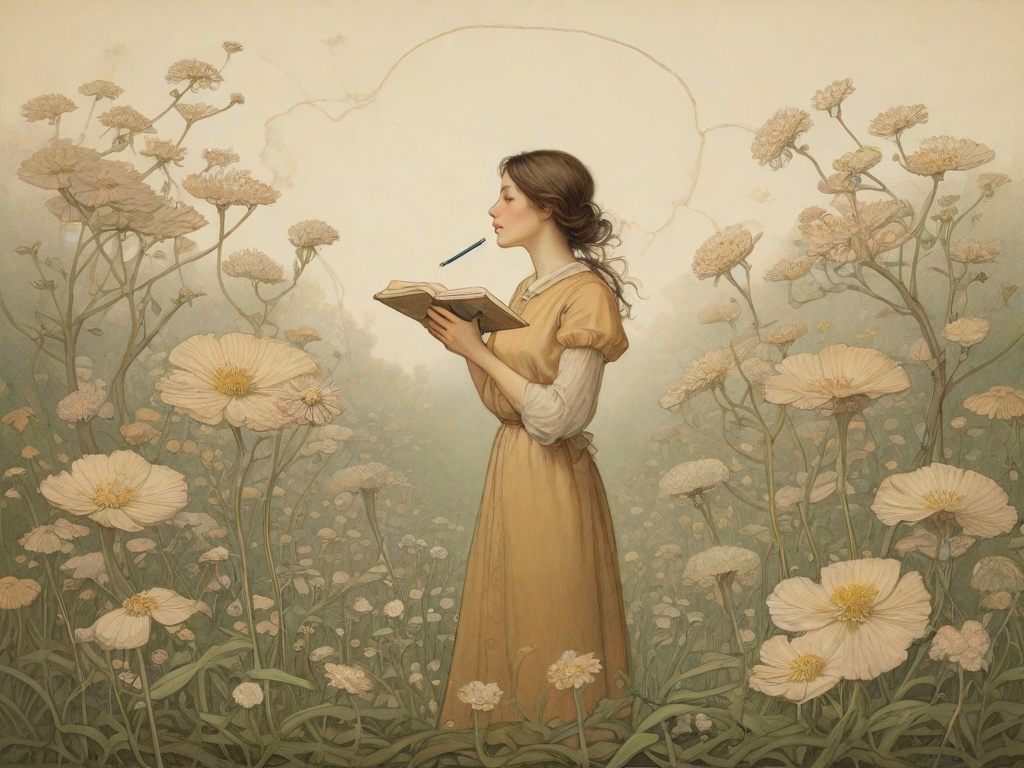 Have you ever had a dream that slips away the moment you try to put it into words? Writing can be like that sometimes, too, but, just like with dreams, it's possible to grow a habit that makes your mind a home for the Muse.
I've known too many people who had a story to tell but never managed to start putting it down on a page.
My name is Odin Halvorson, and I want to guide you through the wonderful worlds of fantastic fiction, riveting book reviews, and writerly wranglings! Last year, Vickie and I collaborated on two episodes: one for Speculative Sandbox, and one for my own podcast, Round Table Radio, produced by Round Table Writers.
Today, I want to talk about inspiration, why we need it, why we don't and what to do when it just isn't coming.
Inspiration is one of those fickle beasts that never seems to be there when I want it to lend me a hand. I'll be sitting at my computer, trying to work on a scene, and I may as well be breaking rocks for a living. It especially frustrates me when I try to write short stories: something so many writers I know seem to do effortlessly. For me, the process is a pain, largely because it involves telling such a crisp tale.
Inspiration, for me, often comes in the form of simply WRITING for writing's sake.
I love the experience of finding new places to explore, of discovering where meandering stories go.
I don't necessarily love craft in terms of beats, and snowflake-methods, and, well, all the stuff that actually makes a story grip you and shake you. Sometimes, all I want to do is play with my sandcastles and let the ocean wash them away.
That said, I have had moments of inspiration that led to great writing experiences, and inspiration is always something I try to listen to when it arises. Don't ignore the MUSE, or she might take offense.
Have you ever had a dream so poignant, so vivid, that upon waking you feel for a moment like you're still in the dream?
But I want to caution you, right now, not to rely on her. She'll show up but rarely for novice writers. She does, however, show up for diligent writers a bit more often.
Just start writing.
If you've heard this advice before and find it annoying… well, I'm with you. But it's the truest advice I know: just start, and then keep on, writing. Sit down, tell a story, and let it be whatever it is. Just, whatever you do, get your butt in the chair and put words onto the page.
What happens when you do this is something magical. Inspiration is not derived from random chance alone: because random chance's odds are improved by diversity and application. The more you do something, the more new things you try, and the more experiences that you gather, the more likely your writing is to prosper…
…the more likely the Muse is to arrive.
I've known too many people who had a story to tell but never managed to start putting it down on a page. Fear is often a complication, but it usually goes deeper than that.
Writing is like dreaming.
Have you ever had a dream so poignant, so vivid, that upon waking you feel for a moment like you're still in the dream? Like the balance between dreaming and reality is permeable, and you're not sure which side you're on?
Have you ever tried to capture that dream in words, writing it down or telling it to someone, only to have all the vividness melt away, like cotton candy in the rain? It's a frustrating feeling to be sure.
That's what it is to be a writer, too. When many people start out, they might have scenes in their head that feel incredibly vivid, but the moment they try to put them down, it all feels wrong. The simple act of translating the beautiful dream in their mind into words distorts it, warps it, and maybe even dissolves the dream altogether.
But, here's the secret.
Just as, with dreams, there are tricks to remembering them better, so are their tricks to getting the stories that you have inside you onto the page.
Probably the most important one is simply this: consistency.
If you record anything you remember from dreams every morning, the moment after you wake, you'll start remembering more of them. Eventually, you'll remember great swaths of them.
If you write a little bit, every day, you'll eventually find yourself honing in on language that feels right – language that describes the images or feelings you have in your mind when you think of your story.
One great practice that I've done before, and will do many times again in the future, is to write a piece of micro-fiction every day. At just 100 words maximum, these little stories can be almost anything - just try to grab that feeling inside of your mind and roll with it. Let it be whatever it wants to be on the page. Practice this for thirty days and you'll have 3,000 words of storytelling, some of it awkward and strange, but some of it surprising in its poignancy.
The first story I ever sold was written like this. It's almost a prose poem, a little piece of science fiction radiance that came out of my mind and onto the page as if by magic. Poof. There it was. And it struck a chord in the editor of a journal. I got paid fair money for it! It resonated with others in the world even though it has little plot, little in the way of character, and no immediate tension. Yours can, too.
Book's I've been loving
Another great way to hone in on your own story is by reading the work of others! Lately, it's been all about audiobooks for me, so I want to end my segment by mentioning two audiobooks that struck me as absolutely brilliant. Not only were they extremely well narrated, they managed to have the sort of language that lives on in the reader's spirit long after the book has closed.
The Lost Library by Rebecca Stead and Wendy Mass
I was smitten with this kitten of a book from the first few minutes of listening. The narrator cast is excellent, the language is keen, and the story is sweet and surprising. It's a cozy mystery with good twists and a wisp of the supernatural, and it'll make you tear up in all the right ways. 
Bookshops & Bonedust by Travis Baldree
I didn't expect much from this one, beyond the enjoyment of a pulpy D&D-inspired popcorn read. What I got was so much more. Every element of this novel is polished to a shine, from the plot and pacing to the characters' interiority, to the base sentences themselves. There are moments of storytelling-within-storytelling, and more realistic character interaction (and growth) than I've encountered in plenty of literary fiction.
Alright, that's enough for now. I'll close with my usual podcasting catchphrase… Go easy, friends. And, if you can't go easy, then go as easy as you can.
Hi there! I'm Odin Halvorson, a librarian, independent scholar, film fanatic, fiction author, and tech enthusiast. If you like my work and want to support me, please subscribe to my social media channels and newsletter, and join as a monthly patron on my Ko-Fi!